Overview
Approximately one and a half hours from Sydney, the Blue Mountains region is the most accessible World Heritage-listed wilderness area in Australia. This self-guided walk traverses the plateau starting out in Mt Victoria and finishing in Leura and includes all the best of the Blue Mountains walks. As you wind your way through the mountains you'll be astonished by the abundance of magnificent vistas with highlights, including Bridal Veil Falls, Govett's Leap Lookout, the Jamison Valley via the Scenic Railway and the Waterfall Valley near Leura.
Take in panoramic views that stretch out to the horizon, get up close to the Three Sisters and witness breathtaking views of the famed Blue Mountains blanketed in the distinctive blue haze for which they were named. There are descents through lushly forested areas to vantage points with close up views of waterfalls. Creeping vines, green moss and giant trees will be your constant companion, and there is a high chance of seeing the elusive Lyrebird. With one million hectares of bushland, this pristine wilderness has 100s of kilometres of trails and we've chosen the very best of them.
Accommodation, as well as most meals, are included on the Blue Mountains Traverse and you'll be delighted with the standard of our choice of lodgings in the picturesque mountain villages.  The gourmet fare in the Blue Mountains is deservedly renowned as some of best on offer in regional Australia. We move your luggage ahead each day to the next accommodation so you can spend more time relaxing and walking pack free.  There's also an option of upgrading your lodging and dining experience please see ACCOMMODATION & DINING for further details.
Note that this Blue Mountains hiking trip is available as a 5 or 7-day itinerary (see the details below). If you have limited time, try our 3-day self guided Blue Mountains Highlights. If you're looking for a group guided itinerary have a look at our 3 day Blue Mountains Grand Traverse itinerary, this walk is part of our luxury walking collective.

SELF-GUIDED
From
$
per person twin/double share
Single Supplement
$395
per person

Single Supplement
Australian hotel accommodations charge the same price per room regardless of whether there is one or two people occupying it.
In order to cover the cost of the accommodation when occupied by one person we need to charge the single supplement fee, a cost that we make no margin on.
Grade
Moderate to Challenging
Grade 4 - Moderate to Challenging
Distances are longer up to 20km. Steep hill sections and rough surfaces. Walking experience and active lifestyle necessary.
Data required for rest of form
Walk Type:
Walk Length: Days
Departure Date:
Person Single Cost: $
Single Supplement: $
Workbooks ID:
DAY 1
You have the choice of either a 5 or 7-day itinerary. On the standard 7-day itinerary you'll walk an average of 14km each day, with some optional extensions.
The Blue Mountains Traverse starts in Blackheath any time after 2pm. There is no walking scheduled for today but there are several galleries and coffee shops in the village worth exploring.
Meals: Two course a la carte dinner
Accommodation: Blackheath in ensuited rooms
DAY 2
NOT PART OF THE 5-DAY ITINERARY
The Blue Mountain Traverse walks begins with an easy climb to the highest point in the mountains, Mt Piddington, followed by a descent through remote forest into the heart of Cox's Cave. Marvel at the tenacity of the early explorers who forged a route through this rugged terrain. There's more remote bushwalking this afternoon as you explore the first pretty canyon, emerging into a huge natural rock amphitheatre. Finish the day with a stroll through magnificent Rhododendron gardens nearby.
Walking: Easy / 16km / 5–6.5 hrs / shorter 12km walk available
Meals: Continental breakfast, walkers Lunch and two course a la carte dinner
Accommodation: Blackheath B&B in ensuited rooms
DAY 3
DAY 2 OF 5-DAY ITINERARY
Skirt around sheer cliff tops to see Bridal Veil Falls plummet 180 metres in a single drop. Enjoy breathtaking views from Govetts Leap and Pulpit Rock, at the same time discovering why the Blue Mountains appear blue. Then walk down into the Grand Canyon, undoubtedly one of the Blue Mountains', if not Australia's, most beautiful walks. The canyon carved out by nature over millions of years, the huge tree ferns, the lichen and other flora and fauna work together in concert to create an unheralded sense of immersion.
Walking: Moderate to Challenging / 16km / 5–6 hrs / shorter walk available
Meals: Continental breakfast and walkers lunch
Accommodation: Blackheath B&B in ensuited rooms
DAY 4
DAY 3 OF 5-DAY ITINERARY
Take an exhilarating ride down the Scenic Railway into the depths of the rainforest then retrace the route used by coal miners over 100 years ago. Mining relics, tunnels and adits can be seen along the way and observant walkers are often rewarded with a glimpse of an elusive Lyrebird. Lunch today will be shared with flocks of cheeky Currawongs at an impressive rocky outcrop called Ruined Castle. Take the Furber Steps Challenge; an alternative to riding up the Scenic Railway. This track climbs steeply through dense rainforest past delightful waterfalls and pretty grottoes. This day also includes a ride in the spectacular Scenic Skyway gondola ride suspended across the Jamison Valley.
Walking: Moderate to Challenging / 16–17.5km / 5– 6.5 hrs / shorter option available
Meals: Continental breakfast, walkers Lunch and two course a la carte dinner
Accommodation: Katoomba B&B in ensuited rooms
DAY 5
DAY 4 OF 5-DAY ITINERARY
Learn the Aboriginal legend of how the famous Three Sisters were formed as you descend the 862 steps of the Giant Stairway. Then it's away from the throng of tourists and into the depths of Leura Forest. Delicate ferns and mosses hug the rainforest trees as filtered sunlight creates a magical scene. There is a thriving arts scene in the Blue Mountains including in Leura, scores of restaurants, cafes and providores.
Walking: Moderate / 9–11.5km / 4– 4.5 hrs
Meals: Cooked breakfast, walkers Lunch and two course dinner at accommodation
Accommodation: Leura B&B in ensuited rooms
DAY 6
NOT PART OF 5-DAY ITINERARY
The final Blue Mountains Traverse walk is into Waterfall Valley. The route winds its way past waterfalls, beneath overhanging cliffs and through magnificent grottoes. A real highlight today is the mid-cliff walk along a wide path that has been carved into the sheer cliff face. Handrails, ladders and airy lookouts provide a birds-eye view over hundreds of miles of forests. The spray from spectacular Wentworth Falls refreshes weary walkers before climbing to the cliff top.
Walking: Moderate / 15km / 4–5.5 hrs / shorter 10km option available
Meals: Cooked breakfast and walkers Lunch
Accommodation: Leura B&B in ensuited rooms
DAY 7
LAST DAY OF THE 5-DAY ITINERARY
The Blue Mountains Traverse finishes after breakfast with a transfer to the local train station.
Meals: Cooked breakfast
Walk Grading

The Blue Mountains Traverse walks are easy to negotiate and the tracks are well cared for . Full day walks average about 15 km with some ups and downs.
*Walk grading and map are not to scale and indicative only.
Walking Track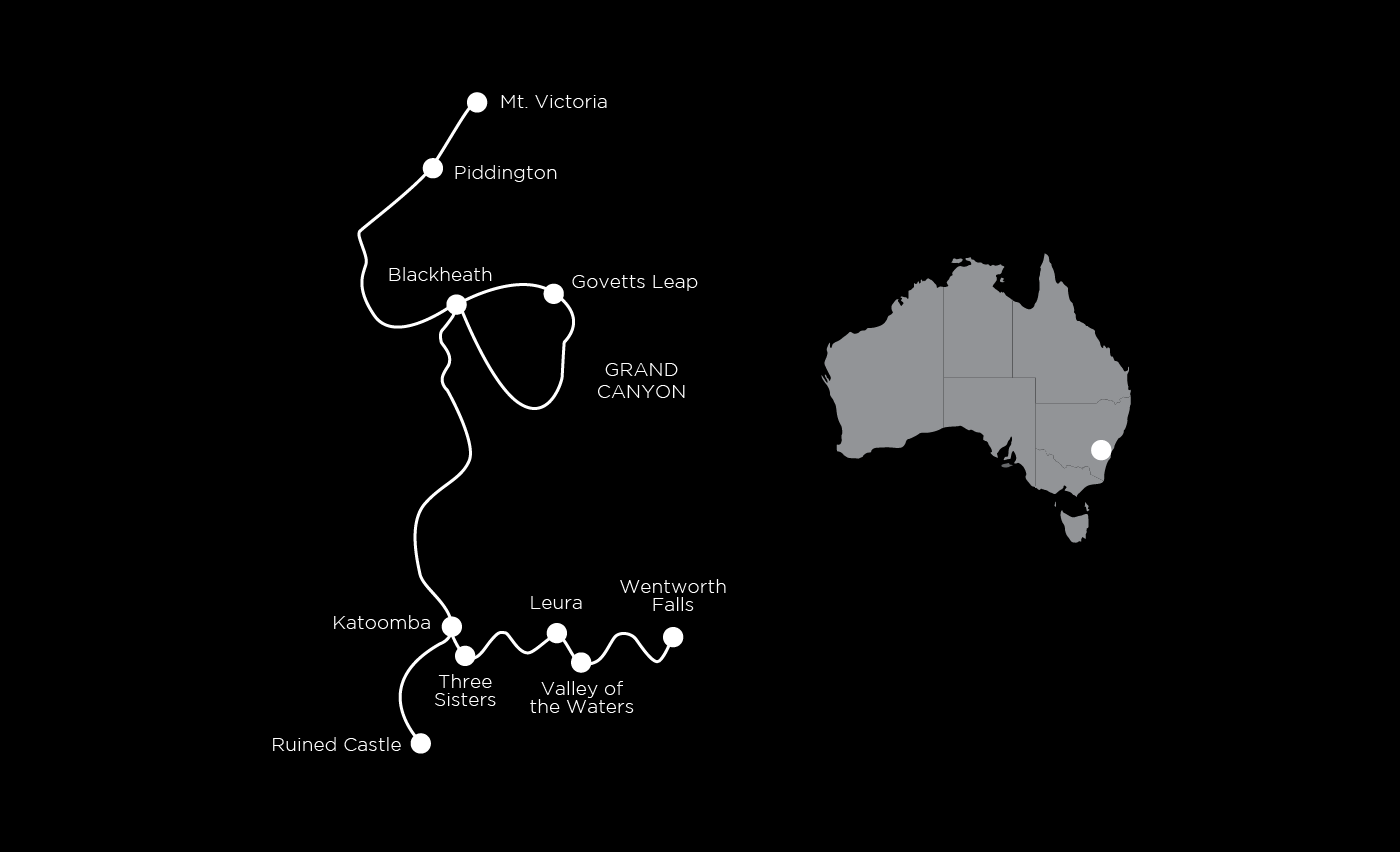 The best of the Blue Mountains walks
4 or 6 nights' accommodation with ensuites
Cooked breakfasts on most mornings, mostly chef prepared two course dinners and walkers Lunches
Luggage transport and vehicle transfers
We shift you along the track from accommodation to accommodation to limit time in a vehicle, creating more time to relax and enjoy the region
National Park admission
Scenic world Railway, Skyway and Gondola all day pass
Enjoy worry free navigation with Auswalk's comprehensive track notes, maps, map case , insulated lunch bag & info pack
24/7 support from Auswalk's transfer company and representatives on the ground
The friendly locals we work with for accommodation, meals and transfers are attentive to your itinerary and eager to help make your departure and arrival each day as smooth as possible. The accommodation each night is in beautiful B&Bs that provide a welcoming and comfortable base to relax and recount the day's highlights. All rooms have their own ensuite.
The upgrade accommodation option is with stunning Parklands and Echoes (or Lilianfels) and includes some of the meals. Please speak to the office if you wish to find out more.
The Blue Mountains is noted for its international cuisine with restaurants attracting some of the best chefs in the country. Award winning wines from the nearby Hunter Valley winery district add to the dining experience.
The dinners are a la carte and set two course and the cooked breakfasts (some mornings continental) are generous. There's an emphasis on local produce and wine from the region.
Each day whilst you're walking you'll be provided with a substantial Walkers Lunch and get to eat it at a fabulous location on the track. A Walkers Lunch is varied and may include a high protein type salad, roll or a wrap, muesli bar, cake or muffin and a piece of fruit.
Alcohol or drinks with meals are not included (except tea/coffee and juice with breakfast).
This Blue Mountains Traverse starts and finishes in the Blue Mountains with a short two-hour train ride (fare not included) from Sydney to the first accommodation. The Blue Mountains walks are mostly along well-marked tracks and trails, with occasional steeper sections either ascending out of or descending into the gorges and valleys below. It's a great combination of easy going, moderate and more challenging walking terrain offering something for every level of experience.
Importantly, we walk in and out of accommodations and move you along the track in order to limit the travel time in a vehicle. Your luggage moves along with you seamlessly as you walk from one accommodation to the next with just your day pack.
The Blue Mountains Traverse comprehensive walk notes provide lots of information on the flora, fauna, history and geology of the Blue Mountains. For further information on this trip watch this walk being featured on an episode of the Sydney Weekender in 2017.
For what to bring please refer to Gear Advice on our FAQ section.
WEATHER
Available all year except July. October-November is usually mild to warm. Temperatures warm up from December-February. March-April is usually cool to mild. Temperatures drop from May onwards and the days are cool to cold but with little rain and good for walking. Warmer, spring weather returns around September.
See the Bureau of Meteorology's information about average temperatures and rainfall at different times of the year.
INSURANCE
We strongly recommend purchasing a travel insurance policy as we charge a cancellation fee if you cancel your Auswalk holiday after we have confirmed it. We want to help make insurance more affordable by offering you a discount on policies purchased through NIB Insurance. This applies to any NIB policies issued via this link. Get an instant quote and purchase online now.
INFORMATION PACK
For nearly 30 years we have taken pride in providing seamlessly organised walking holidays, but we know, even with that in mind, that you'll have many more questions. You will receive a very detailed information pack and itinerary approximately 6 weeks out from departure outlining all the fine detail and much more.
CONTACT
If you have any questions, feel free to ask one of our destination consultants or to speak with one of our guides. You can get in touch with us via our contact form, email us at info@auswalk.com.au, or call us on +61 3 9597 9767.