Overview
The Great South West track has got to be Victoria's best kept secret – a 250km continuous loop of untouched environment, from dramatic isolated coast with massive limestone cliffs and pristine beaches, to meandering rivers and remote bushland teaming with wildlife. Aboriginal heritage sites, the mighty Southern Ocean and freshwater lakes make this one of the most varied walks in Australia. This walk is a "Symphony in Four Movements", depicted beautifully in this video.
The first stage is the picturesque Glenelg River, which stretches out as it nears the coast then carves its way through a spectacular limestone gorge. Then it is onto the pristine sandy beaches, rocky outcrops and freshwater lakes of Discovery Bay Coastal Park. The grand finale is the Three Capes and Bays section where the track hugs the clifftop all the way.
Highlights
Remote pack free walking
Your likely to have this outback paradise all to yourself
Rugged, wave-bashed headlands are the highest in Victoria
Whale spotting in season & colony of Australian fur seals at Cape Bridgewater year-round
Huge variety of landscapes and habitats making this an easy place to spot kangaroos, echidnas, koalas, emus and much more
Small family run accommodations and country hospitality

SELF-GUIDED
From
$
per person twin/double share
Single Supplement
$375
per person

Single Supplement
Australian hotel accommodations charge the same price per room regardless of whether there is one or two people occupying it.
In order to cover the cost of the accommodation when occupied by one person we need to charge the single supplement fee, a cost that we make no margin on.
Grade
Moderate

Grade 3 – Moderate
Short, steep hill sections. Moderate active lifestyle and some walking experience recommended.
Data required for rest of form
Walk Type:
Walk Length: Days
Departure Date:
Person Single Cost: $
Single Supplement: $
Workbooks ID:
DAY 1
Start in Portland any time after 2pm. There is no walking scheduled for today, but you can easily enjoy exploring the old buildings, walking along the beach or visiting the excellent Maritime Discovery Centre.
Walking: Optional easy walking available
Accommodation: Lorelei B&B Portland
DAY 2
Hike the picturesque Glenelg River section of the Great South West Walk from Moleside Creek to Sapling Creek. The track is by the river most of the way with delightful opportunities to take a dip.
Walking: Moderate / 27.6km / 5.5–6.5 hrs / shorter 18km option available
Meals: Cooked breakfast, Walkers Lunch and a 2 course dinner
Accommodation: Nelson Cottage
DAY 3
Progress through the Glenelg River Gorge and continue to follow the river all the way into the settlement of Nelson. The character of the river changes dramatically through the gorge as it widens nearing the coast. Here you'll see boat sheds that have been converted into waterfront houses.
Walking: Moderate / 24.4kms / 6–7 hrs / shorter option available
Meals: Cooked breakfast and Walkers Lunch
Accommodation: Nelson
DAY 4
Spend the morning following the sandy beach of Discovery Bay. For the afternoon, head back onto the track inland, parallel to the coast, emerging at a huge freshwater lake. This can be a moderate to challenging walk at high tide.
Walking: Moderate / 21.7kms / 6–7 hrs
Meals: Cooked breakfast, Walkers Lunch and a two course dinner
Accommodation: Nelson
DAY 5
Begin the Three Capes Section of the track which hugs the cliff the entire way with photo opportunities aplenty. The coast offers blow holes, a "Petrified Forest" and an "Enchanted Walk" where vines of bower spinach are decoratively draped over limestone boulders and twisted moonah trees. Walk in to your accommodation at Bridgewater Bay.
Walking: Moderate / 16.5km / 5–6 hrs
Meals: Cooked breakfast, Walkers Lunch and a two course dinner
Accommodation: Bridgewater Bay
DAY 6
From Bridgewater Bay, the route continues via the beach then clifftop track to Cape Nelson Lighthouse. There's a cafe here to reward yourself at the end of the hike.
Walking: Moderate / 19km / 4.5–5.5 hrs
Meals: Cooked breakfast, Walkers Lunch and a two course dinner
Accommodation: Bridgewater Bay
DAY 7
The final section of the Great South West Walk continues from Cape Nelson all the way into Portland. Highlights include Yellow Rock, Cape Sir William Grant, an endangered Australasian gannet colony and the Portland Battery. Then it's back to the B&B in Portland where you can boast about your achievements.
Walking: Moderate / 23km / 5.5–6.5 hrs
Meals: Cooked breakfast and Walkers Lunch
Accommodation: Portland
DAY 8
Your holiday finishes after breakfast in Portland.
Meals: Cooked breakfast
Walk Grading
These sections of the Great Southwest walk track are well graded and relatively easy to negotiate. Full days walks average about 21km. There are great opportunities for fit walkers to challenge themselves on most days.
*Walk grading and map are not to scale and indicative only.
Walking Track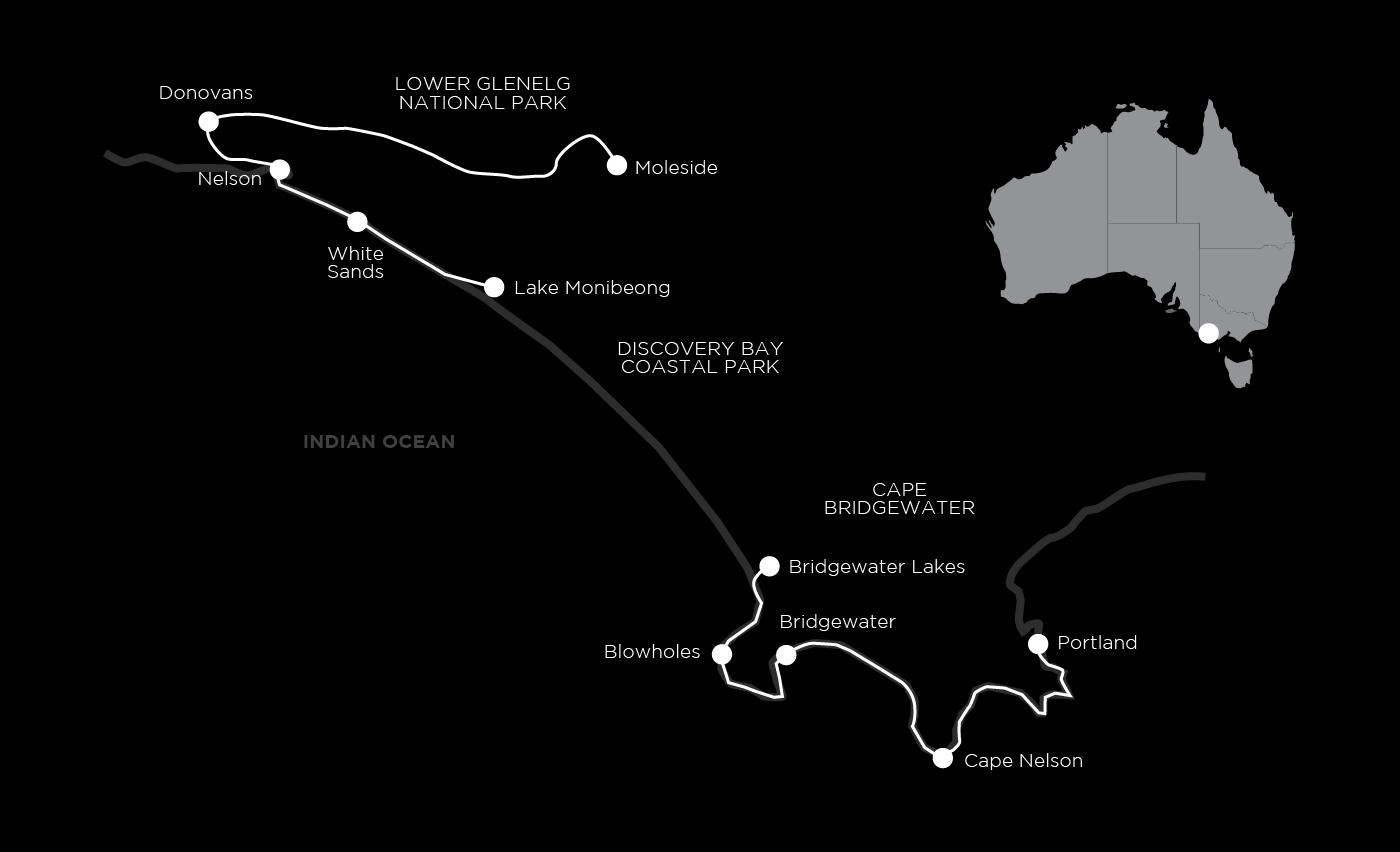 8 day pack free walking holiday
The Great South West Walk highlights
7 nights' accommodation with ensuite (except at Nelson)
Cooked breakfasts, two course dinners and substantial Walkers Lunches
Luggage transport and vehicle transfers
We shift you along the track from accommodation to accommodation to limit time in a vehicle, creating more time to relax and enjoy the region
National Park admission
Enjoy worry free navigation with Auswalk's comprehensive track notes, maps, map case , insulated lunch bag & info pack
24/7 support from Auswalk's transfer company and representatives on the ground
This supported hike has you walk in and out of remote towns and stay at small bed and breakfasts and lodges. Your hosts Denis, John, Trish and Roger have been part of our team for nearly twenty years and love accommodating and feeding our walkers. The rooms all have ensuites except at Nelson Lodge. Nelson Lodge was an old police station and has real character and it is most likely that you will have the place to yourself. The views from Sea View Lodge at Bridgewater make you feel like you never left the track.
The food is prepared by your hosts and the local restaurant at Bridgewater where the food is prepared by a chef.
Each day whilst you're walking you'll be provided with a substantial Walkers Lunch and get to eat it at a fabulous location on the track. A Walkers Lunch is varied and may include a high protein type salad, roll or a wrap, muesli bar, cake or muffin and a piece of fruit.
Alcohol or drinks with meals are not included (except tea/coffee and juice with breakfast).
This trip starts and finishes in Portland, which is a 5-hour drive from Melbourne. If you prefer, you can fly to Portland from either Melbourne or Adelaide. There are also public transport services from Melbourne. Contact us for more details.
We have rated this walk as moderate as some days are quite long. Full day walks average about 22km, 5 to 7.5 hours walking each day. The walking is mostly flat over reasonably well-walked paths, bush tracks and with some sandy sections.
For what to bring please refer to Gear Advice on our FAQ section.
WEATHER
This walk can be done any time of the year except for the winter months of June, July and August. September to April is the ultimate time of the year for walking. Sea breezes usually keep the temperatures comfortable in summer, although there can be a period of quite hot weather, especially during February.
Warning about tide times – we may have to be a little flexible with your start date to make sure that the walking on the beach at high tide is avoided.
This walking holiday includes some sections of beach walking, so you need to take into account the tide times when choosing a starting date. To check tide charts, go to the Bureau of Meteorology and select your location as Portland. We can assist you if you need help understanding the charts.
INSURANCE
We strongly recommend purchasing a travel insurance policy as we charge a cancellation fee if you cancel your Auswalk holiday after we have confirmed it. We want to help make insurance more affordable by offering you a discount on policies purchased through NIB Insurance. This applies to any NIB policies issued via this link. Get an instant quote and purchase online now.
INFORMATION PACK
For nearly 30 years we have taken pride in providing seamlessly organised walking holidays, but we know, even with that in mind, that you'll have many more questions. You will receive a very detailed information pack and itinerary approximately 6 weeks out from departure outlining all the fine detail and much more.
CONTACT
If you have any questions, feel free to ask one of our destination consultants or to speak with one of our guides. You can get in touch with us via our contact form, email us at info@auswalk.com.au, or call us on +61 3 9597 9767.