Overview
Walk among Tasmania's Tarkine wilderness, the largest tract of unbroken cool-temperate rainforest remaining in the Southern Hemisphere. This 65-million-year-old forest houses hidden gems and ancient relics including tree species that exist elsewhere only as fossils.
We have designed the Tarkine Wilderness walks in order to unlock the beauty of the region that includes mountains, wild rivers, the sublime coastline with its ferocious oceans and iconic open plains. A real highlight of the trip is the boat journey down the Pieman River and then the walk out along the coast.
As part of the Tasmanian Wilderness World Heritage Area, Cradle Mountain–Lake St Clair National Park is renowned for its glacier-sculpted mountain peaks, river gorges and icy streams cascading down rugged mountains, glacial lakes, tarns and tracts of wild alpine moorland. We get up close and personal to Cradle Mountain by walking a part of the iconic Overland Track, the Cradle Mountain Face Track and Dove Lake.
Importantly on this 5-day journey, we remain immersed in the quiet wilderness as the accommodations are located right on the edge of these majestic parks.

GROUP-GUIDED
From
$
per person twin/double share
Single Supplement
$165
per person

Single Supplement
Australian hotel accommodations charge the same price per room regardless of whether there is one or two people occupying it.
In order to cover the cost of the accommodation when occupied by one person we need to charge the single supplement fee, a cost that we make no margin on.
Grade
Easy to Moderate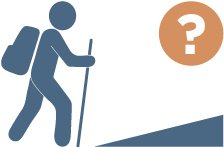 Grade 2 - Easy to Moderate
Some hill sections and occasional steps. Walking experience not required.
Data required for rest of form
Walk Type:
Walk Length: Days
Departure Date:
Person Single Cost: $
Single Supplement: $
Workbooks ID:
DAY 1
This holiday commences in Launceston at 8.00am. From here we will travel through Burnie to embark on our first walk at delightful Hellyer Gorge. Half of this region is rainforest, with the remainder being eucalypt forest, heathland, button grass and rivers. The Tarkine, reputed to produce some of the world's freshest air, is so vastly inaccessible it takes a solid walk before you find the pure Sassafras rainforest, tree ferns and Myrtle trees, some which are over half-a-millennia old. We'll enjoy lunch amidst some of Tasmania's oldest forest environments before undertaking the last of the Tarkine walks for day one. This time we're walking at the beautiful Philosophers Falls amidst the stunning towering Myrtle and Sassafras.
Walking: Easy / 10 km / 3-4 hrs
Meals: Lunch and two course a la carte dinner
Accommodation: Corinna Wilderness Lodge in a private room but shared cabin and bathroom
DAY 2
Today we will get truly in tune with our surroundings as we set off following the narrow Whyte River forest track as it meanders beside the Pieman and Whyte Rivers. If we're lucky we may even encounter a platypus out feeding in the river. Next, it's on to the Mt Donaldson walk. The ascent should take us right up to lunch which will be enjoyed at the summit whilst taking in a spectacular view into the heart of the Tarkine. We will make our way back down to explore another of the Tarkine walks, a section of giant Myrtle trees along the banks of the Savage River. You will feel as though you're wandering around on the set of 'Lord of the Rings' on these Tarkine wilderness walks.
Walking: Moderate / 20 km / 6-7 hrs / easier 10 km option available
Meals: Provisions for a cooked breakfast, walkers lunch and two course a la carte dinner
Accommodation: Corinna Wilderness Lodge in a private room but shared cabin and bathroom
DAY 3
This morning we will take the historic Huon Pine Launch, Arcadia II, from Corinna down the Pieman River to the Pieman Heads, the last of our tarkine wilderness walks. The skipper will give very interesting commentary covering the history of Huon Pine harvesting, mining and thylacine before we disembark at the heads. The walking today is along the coast on beach and dunes. We will be treated to coastal flora and much evidence of indigenous middens.
Walking: Easy to Moderate / 9 km / 3-4 hrs
Meals: Provisions for a cooked breakfast, walkers lunch and two course a la carte dinner
Accommodation: Corinna Wilderness Lodge in a private room but shared cabin and bathroom
DAY 4
This morning we will board the Fatman Barge to cross the mighty Pieman River as we make our way to Cradle Mountain National Park. Arriving mid-morning, we will head straight to our first walk, a combination of our favourite tracks including Hanson's Peak, Marion's Lookout and Dove Lake. This park also provides a rich habitat for wildlife, including Tasmanian devils, quolls, platypus, echidna, pademelons, wombats and several bird species – so be on the lookout
Walking: Moderate / 13 km / 5-6 hrs / shorter option available
Meals: Cooked breakfast, walkers lunch and two course a la carte dinner at the resort restaurant
Accommodation: Cradle Mountain Hotel in ensuited room
DAY 5
We start our final day in the Cradle Valley on a simply stunning three-hour walk into Dove Canyon. This encapsulates the variety of landscapes you would expect to find in the Tasmanian sub-alpine environment. Rest assured, there will be shorter and less strenuous walk options available today. We will leave Cradle Mountain around midday to make our way back to Launceston, stopping en route for lunch. Expect to get back to Launceston at approximately 4.30pm.
Walking: Easy / 6 km / 3 hrs
Meals: Cooked breakfast and a walkers lunch
Walk Grading
The tracks have some rugged bits at Cradle, but other than that, most tracks are well graded and easy to negotiate. Full day walks average about 12.5km. There are great opportunities for really fit walkers to challenge themselves on two of the days.
*Walk grading and map are not to scale and indicative only.
Walking Track
Genuine all inclusive pack free walking holiday
2 engaging, knowledgeable and experienced guides
4 nights in comfortable accommodation
All transport fro Launceston, including luggage transport
Cooked breakfasts each morning and two course dinners in the evening
(breakfast provisions will be provided on 3 mornings for you to cook in your cabin)
Comprehensive walkers lunches augmented by Auswalk's trail mix
National Park admission
Auswalk guide pack including notes, maps, map case, insulated lunch bag and container
For the first three nights at Corinna we have private rooms but shared bathroom facilities in 2 bedroom cabins. On our last night we stay at 4.5-star Cradle Mountain Hotel right up against the park, in rooms with ensuites. The accommodations are all in beautiful locations, providing a further opportunity to walk and explore but are also great places to just sit and relax and take everything in.
All the two course dinners are prepared by professional chefs in the accommodation restaurants. Enjoy some of the best local produce this country has to offer with an emphasis on Tasmanian local produce. Start each day with a substantial cooked breakfast to ready yourself for the upcoming walk.
The packed lunches and picnics complete the circle ensuring that your appetite is always satisfied. A walkers lunch may include a high protein type salad, a roll or a wrap, a muesli bar, a piece cake or a muffin and a piece of fruit. Each day is slightly different. Lunch is always augmented by Auswalk's trail mix. You can look forward to having lunch on a daily basis at some of the most beautiful remote locations in Tasmania.
Alcohol or drinks with meals are not included (except tea/coffee and juice with breakfast).
Tracks range from well-cared-for to less kempt, but they are all easily passable and are mostly dry and firm this time of year. However, on the odd occasion we have encountered wet portions of track. Most of the walks are easy to moderate. The easier alternative walks are great for first timers. Some walks involve challenging walking of between 5 to 7 hours each day with some steep ascents and descents, so the experienced hikers won't be disappointed.
This trip operates with two professional and experienced guides, knowledgeable of the area and natural surroundings, including the local fauna, flora and history. Thus easier and more challenging options will be offered each day.
Pre and post tour accommodation: There are many good hotels in Launceston, however we only pick up and drop off at the Colonial Motor Inn. The tour starts at 8.00am at the Colonial Motor Inn, 31 Elizabeth St in Launceston. Expect to get back to Launceston at approximately 4.30pm.
For what to bring please refer to Gear Advice on our FAQ section.
WEATHER
Tasmania is best for walking in the warmer months, between November and April.
See the Bureau of Meteorology's information about average temperatures and rainfall at different times of the year.
INSURANCE
We strongly recommend purchasing a travel insurance policy as we charge a cancellation fee if you cancel your Auswalk holiday after we have confirmed it. We want to help make insurance more affordable by offering you a discount on policies purchased through NIB Insurance. This applies to any NIB policies issued via this link. Get an instant quote and purchase online now.
INFORMATION PACK
For nearly 30 years we have taken pride in providing seamlessly organised walking holidays, but we know, even with that in mind, that you'll have many more questions. You will receive a very detailed information pack and itinerary approximately 6 weeks out from departure outlining all the fine detail and much more.
CONTACT
If you have any questions, feel free to ask one of our destination consultants or to speak with one of our guides. You can get in touch with us via our contact form, email us at info@auswalk.com.au, or call us on +61 3 9597 9767.