Overview
The Abel Tasman Great Walk with its spectacular coastlines and untamed natural wilderness is one the world's most acclaimed linear end-to-end walking experiences.
More sunshine hours than anywhere else in New Zealand works in your favour as you hike the Abel Tasman track, famous for its pristine golden sands and crystal-clear waters. Deep pools in freshwater streams and isolated beaches beckon you in to swim.
Bolt on 4-star accommodation and sumptuous meals at Awaroa Lodge, private transfers, and the best of creature comforts available in Marahau village, and you have yourself an unsurpassed fully-immersive experience.
HIGHLIGHTS OF THE ABEL TASMAN WALK:
Walk the entire Abel Tasman Great Walk from Marahau to Wainui Bay
5 nights accommodation with ensuite rooms and 4 days of amazing walking
Stay in 4-star luxury in the Abel Tasman National Park at Awaroa Lodge
Seamless private transfers and all transport on and off the track from Nelson
A la carte meals at Awaroa Lodge, all breakfasts and lunches included
Spectacular coastline including one of a kind views over gorgeous golden coves, sparkling waters, and native forest. Unparalleled opportunities to take a swim.
Forests filled with birdsong. Lush rainforest gullies filled with majestic tree ferns.

SELF-GUIDED
From
$
per person twin/double share
Single Supplement
$625
per person

Single Supplement
Australian hotel accommodations charge the same price per room regardless of whether there is one or two people occupying it.
In order to cover the cost of the accommodation when occupied by one person we need to charge the single supplement fee, a cost that we make no margin on.
Grade
Easy to Moderate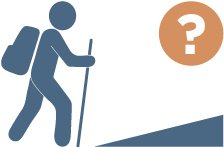 Grade 2 - Easy to Moderate
Some hill sections and occasional steps. Walking experience not required.
Data required for rest of form
Walk Type:
Walk Length: Days
Departure Date:
Person Single Cost: $
Single Supplement: $
Workbooks ID:
DAY 1
Abel Tasman Track
The trip starts with a private transfer from Nelson to Marahau. Alternatively, if you are driving you can choose to start in Marahau. Relax in comfort in lovely accommodation directly adjacent to the park. Take a stroll along the beach, explore the boardwalk at the southern end of the track, or venture up in the hinterland behind the village. Or just sit and relax and enjoy the magnificent natural surroundings.
Walking: Easy / 2 -4 kms / 1 -2 hours
Meals: Dinner at nearby restaurant
Accommodation: Abel Tasman Lodge in ensuite rooms
DAY 2
Torrent Bay to Marahau
Transfer by water taxi to the start of this day's walk on the Abel Tasman. Stroll off the golden sands of Torrent Bay Beach and within moments you're in verdant native forest. Today's highlights include a short detour to Cleopatra's Pool where you can take a dip in the crystal-clear fresh water. On towards Anchorage Bay and a very pleasant walk back to Marahau marvelling at the views over coves and bays.
Walking: Moderate / 15 kms/ 5 – 5.5 hrs
Elevation: +605m / – 610m
Meals: Breakfast and walkers' lunch
Accommodation: Abel Tasman Lodge in ensuite rooms
DAY 3
Wainui Bay to Totaranui (Place of big Totara Trees)
Today's walk to Totaranui is one of the best. There are epic views across Golden Bay, Farewell Spit, and the open ocean to the north. There is also some the oldest native forest on the walk and remote beaches punctuate the track regularly. An optional walk to Separation Point lighthouse is on the menu if you're willing. Long-nosed fur seals and gannet breeding initiatives for the fauna lovers and a wilder wind-swept feel to this much less visited part of the track adds a few more dimensions to this walk.
Walking: Moderate / 16 kms / 5 to 5.5 hrs
Elevation: +785m / -790m
Meals: Breakfast and walkers' lunch
Accommodation: Abel Tasman Lodge in ensuite rooms
DAY 4
Torrent Bay to Awaroa
A fabulously smooth track through wonderful surroundings as you walk north from Torrent Bay. There are magnificent views as you make your way along the coast, moving inland through massive tree ferns some of which are over 100 years old. Today, like every day on this wonderful track, there are multiple opportunities to take a swim in the sea, in water so clear that you will think you are on the Mediterranean.
Walking: Moderate /14kms / 4 – 5.5 hrs
Elevation: +755m / -750 m
Meals: Breakfast, walkers' lunch and 3-course dinner in Awaroa Lodge Restaurant
Accommodation: 4 star Awaroa Lodge in ensuite rooms
DAY 5
Awaroa to Totaranui
The easiest of the four days of walking, but with options for a bit more of a challenge via bonus extra walks at the northern and southern end of the main walk for those that are keen. Or just stick with the basics to allow you plenty of time to relax and enjoy the 4-star natural setting of Awaroa Lodge. Our last day of walking features more outstanding coastal views, beautiful forests, and the feeling of total immersion in this gorgeous part of New Zealand. Today we across Awaroa Estuary, which is only possible within a few hours of low tide, to make our way to Totaranui. Relax on the beach if you arrive early, take a swim, or explore the headland before the water taxi transfers you back to Awaroa Lodge inside the Abel Tasman National Park. This section will be walked in the opposite direction on days when low tide is in the afternoon.
Walking: Easy to Moderate / 10kms / 2.5 – 3.5 hours
Elevation: +310m / -320m
Meals: Cooked breakfast, walkers' lunch and 3-course dinner in Awaroa Lodge Restaurant
Accommodation: 4-star Awaroa Lodge in ensuite rooms
DAY 6
A relaxed morning which may include a walk on the beach, in the wetlands, or through the forest that surrounds the accommodation in the Abel Tasman National Park. After a delicious cooked breakfast in the lodge restaurant, you will be transferred by water taxi back to Marahau arriving at 12.00pm (or onwards to Nelson Airport if needed, arriving about 1.00pm).
Meals: Cooked breakfast
Full access to the Abel Tasman National Park and its beauty
5 nights accommodation in beautiful lodges including 4 star Awaroa lodge
Walk the entire track end to end pack free
A la carte meals at Awaroa Lodge including 2 course dinners
5 breakfasts, 4 walkers lunches and 3 dinners
Comprehensive track notes, map case, insulated lunch bag and container
Enjoy the 26 years of our experience in organising self-guided walking holidays
The highlight on our Abel Tasman walk means staying right in the middle of Abel Tasman National Park for two nights and being able to explore the area at your own leisure. The luxury of the Awaroa Lodge is an additional bonus. The lodge has a long history which you'll learn more about once you arrive and the staff are ready to help in any way they can. Why not add a day at end of the trip and really relax? The dinners at Awaroa are 2 course a la carte and the cooked breakfasts are also prepared by Awaroa's professional chefs.
NIGHT'S 1 TO 3: ABEL TASMAN LODGE OR SERENITY LODGE, MARAHAU
The accommodation in Marahau is excellent as well. A choice of two small but beautifully appointed lodges right next to the Abel Tasman park in beautiful natural surroundings. You will be warmly welcomed by our hosts!
NIGHT'S 4 AND 5: AWAROA LODGE, ABEL TASMAN NATIONAL PARK
Awaroa Lodge is located in the heart of the Abel Tasman National Park, one of New Zealand's most visited National Parks. Surrounded by pristine waterways and native forest, the Lodge has been constructed to make the most of its secluded location which is not accessible by road.  Much of the lodge is luxurious architecturally designed with many of the rooms built over wetlands. The main lodge is warm, inviting and full of character with a comfy lounge, library, bar and restaurant.
AVAILABILITY OF ABEL TASMAN WALK
This trip is not always available in the winter months of June, July, and August, please check with us to see when or if accommodations are still open. We also suggest that you avoid January and February when the area gets very crowded with holiday makers. There is a significant surcharge at this time (as well during the holiday period of December) and the walking temperatures are not as suitable. Spring (September to December) and autumn (March to May) are excellent times to walk!
WALKING
This track is smooth, well-graded, with mostly gentle ascents and descents. This is as good as it gets. Walks are about 16 kms a day allowing you to explore the many isolated beaches and potentially add on some of the optional walks we have suggested.
GETTING THERE AND AWAY
Flights to Nelson are available from all major New Zealand centres. From Nelson, you will enjoy a private transfer to the beginning of the Abel Tasman Track. If you choose to self-drive, the roads (coastal or inland) from Christchurch are excellent and offer ample opportunities to explore on the way. Your vehicle can be left safely at your accommodation in Marahau. See getting there and away for Queen Charlotte for other alternatives if you are considering doing both walks.
WEATHER
December through February is usually warm to hot with excellent swimming weather. But as mentioned book well in advance for January and February due to the summer school holidays. March through May and September to November is usually cooler, with long sunny days, perfect for walking.
See the New Zealand Meteorological Service information about average temperatures and rainfall at different times of the year.
INSURANCE
We strongly recommend purchasing a travel insurance policy for travel overseas, as we charge a cancellation fee if you cancel your walking holiday after we have confirmed it. We want to help make insurance more affordable by offering you a discount on policies purchased through NIB Insurance. This applies to any NIB policies issued via this link. Get an instant quote and purchase online now.
INFORMATION PACK
For almost 30 years we have taken pride in providing seamlessly organised walking holidays, but we know, even with that in mind, that you'll have many more questions. You will receive a very detailed information pack and itinerary approximately 6 weeks out from departure outlining all the fine detail and much more.
CONTACT
If you have any questions, feel free to ask one of our destination consultants. You can get in touch with us via our contact form, email us at info@auswalk.com.au, or call us on +61 3 9597 9767.