Overview
Immerse yourself in the splendid isolation of Tasmania on the Bay of Fires walk, famous for crystal-clear waters, pristine white beaches and orange lichen-covered granite boulders.
Explore the 38-km long Freycinet Promontory, a wild pristine coastline with beautiful beaches, clear blue seas and ancient forests scattered with rare wildflowers. Take a boat trip to a secluded beach away from the crowds to climb Mount Freycinet where you'll witness unobscured, unprecedented views back across the Freycinet Peninsula and over Wineglass Bay. Overlook Wineglass Bay and its perfect arc of blond sand and ice-blue water.
Bay of Fires Walk and Freycinet highlights:
Fully inclusive
Combined Bay of Fires walk and Freycinet experience
2 nights at Freycinet Lodge in ensuite rooms
Eco wildlife boat cruise at Freycinet
Chef prepared à la carte 2-course meals and cooked breakfasts at Freycinet
Easy and hard walks offered each day
2 experienced guides with local bespoke walking knowledge of the region

GROUP-GUIDED
From
$
per person twin/double share
Single Supplement
$455
per person

Single Supplement
Australian hotel accommodations charge the same price per room regardless of whether there is one or two people occupying it.
In order to cover the cost of the accommodation when occupied by one person we need to charge the single supplement fee, a cost that we make no margin on.
Grade
Easy to Moderate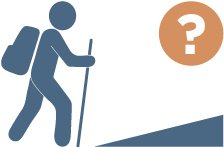 Grade 2 - Easy to Moderate
Some hill sections and occasional steps. Walking experience not required.
Data required for rest of form
Walk Type:
Walk Length: Days
Departure Date:
Person Single Cost: $
Single Supplement: $
Workbooks ID:
DAY 1
Start in Launceston at 7:30 am then drive towards Musselroe Bay. Our first Bay of Fires walk of about 15 km embarks from Stumpys Bay via Boulder Point to Deep Creek in Mt William National Park. For guests who want to shorten the walking, an alternative is available. Time permitting, we may visit the lighthouse on the way back to your accommodation.
Walks: Easy / 14 km / 5 hrs
Meals: A walkers lunch is provided and after tonight's pre-dinner snack, a two-course dinner will be served at the remote Icena Farm
Accommodation: Icena Farm or Tidal Waters
DAY 2
After a hearty cooked breakfast, collect your walkers lunch and travel a short distance to Deep Creek. Our second Bay of Fires walk takes us to beautiful Ansons Bay via extraordinary lichen covered rock outcrops all the while bordered by pristine beaches and the crystal-clear sea. After this, we head to Freycinet Lodge for a well-earned hot shower a pre-dinner drink if you choose followed by a chef-prepared two-course meal.
Walks: Easy / 13 km / 5 hrs / shorter option available
Meals:  A cooked breakfast, lunch pack and a two-course a la carte meal at Freycinet Lodge
Accommodation: Freycinet Lodge with ensuite rooms
DAY 3
It's breakfast, then onto the boat for a cruise past the Hazards to Cooks Beach. Seeing the landscape from the sea gives an entirely different perspective of the peninsula. Walk to the top of Mount Freycinet, a moderate distance, but it does include a short challenging climb. Another shorter walk is available, but this shouldn't be missed as the rewards are well worth it.
Walks: Easy to moderate / 14 km / 6 hrs / shorter 8 km option available
Meals: Chef-prepared cooked breakfast, lunch pack and fabulous two-course a la carte meal at the beautiful Bay restaurant Freycinet Lodge
Accommodation: Freycinet Lodge with ensuite rooms
DAY 4
After breakfast, trek to the famous Freycinet Wineglass Bay and Hazards Beach Loop. From the lookout, admire Wineglass Bay, eventually experiencing it up close up on the beach – sand between your toes and going for a dip if you choose. The stunning views over the peninsula including Wineglass Bay makes a perfect bookend to a 4-day walk that begins with stunning remote beaches and ends with epic views.
Drive onto Launceston where the trip ends at approximately 4:30 pm
Walks: Easy to moderate / 11 km / 4 hrs / shorter option available
Meals:  Chef-prepared cooked breakfast and walkers lunch
Walk Grading
The tracks are well graded and mostly easy to negotiate. Full day walks average about 14km on mostly flat surfaces other than at Mt Graham. There is an opportunity for fit walkers to challenge themselves on some of the days by adding more walking.
*Walk grading and map are not to scale and indicative only.
Walking Track
Genuine all inclusive pack free walking holiday
Luggage transport and all transport to and from Launceston
Bay of Fires walk and the best Freycinet walks
2 engaging, knowledgeable and experienced guides
3 nights' comfortable ensuited accommodation, including 2 nights at Freycinet Lodge
Daily meals including walkers lunches and chef prepared dinners
Cooks Beach boat trip
National Park admission
Auswalk guide pack including lunch bag, container and map case
The last two nights are at the fabulous Freycinet Lodge in rooms with ensuite bathrooms. Some have the added bonus of shared lounge rooms. We also stay one night at the remote working farm, Icena (or Tidal Waters on the first night). On the Bay of Fires walk section the accommodation at Icena is in a picturesque rural location and is spacious, but has shared bathrooms. Please note at Icena, the rooms vary with a few rooms having ensuites; these will be shared out on the basis that the first double bookings will receive the ensuite rooms.
Each day you'll be provided with a substantial walkers lunch. This may include a high protein type salad, a roll or a wrap, a muesli bar, cake or muffin and a piece of fruit. Lunch is always augmented by Auswalk's famous trail mix so you'll never go hungry. In addition to that, you'll get to eat it at a fabulous location on the track. Dinner at Icena is an elaborate three course affair and includes drinks. At Tidal Waters it is a 2 course  a la carte meal (no alcohol provided, but ensuites are available) and breakfast is always cooked and at Freycinet is prepared by their fabulous chefs. The fabulous two course dinners at Freycinet Lodge are again prepared by their in-house chefs.
Alcohol and drinks are not included with meals (except tea/coffee and juice with breakfast).
The walk starts in Launceston 7:30am and finishes in Launceston late afternoon around 4:30pm. We have graded the walking on this trip as easy. The walking on the first two days on the Bay of Fires walk is easy to moderate, with some beach walking. At Freycinet there is some steep sections but overall the walking is easy to moderate. This trip operates with two professional guides ensuring that you have both a safe and enjoyable walking holiday. Guides are knowledgeable of the area, including flora and fauna and they can offer easier and harder walk options along the way.
Pre and post tour accommodation: There are many good hotels in Launceston, however we pick up and drop off from one central hotel. The tour starts at 7.30am at the Colonial Motor Inn, located at 31 Elizabeth Street in downtown Launceston. The trip ends at approximately 4:30pm on the last day in Launceston.
For what to bring please refer to Gear Advice on our FAQ section.
WEATHER
Summer is our preferred time of year for hiking in Tasmania. The east coast is suitable from November to April.
See the Bureau of Meteorology for information about temperatures and rainfall ahead of time to ensure proper clothing.
INSURANCE
We strongly recommend purchasing a travel insurance policy as we charge a cancellation fee if you cancel your Auswalk holiday after we have confirmed it. We want to help make insurance more affordable by offering you a discount on policies purchased through NIB Insurance. This applies to any NIB policies issued via this link. Get an instant quote and purchase online now.
INFORMATION PACK
For nearly 30 years we have taken pride in providing seamlessly organised walking holidays, but we know, even with that in mind, that you'll have many more questions. You will receive a very detailed information pack and itinerary approximately 6 weeks out from departure outlining all the fine detail and much more.
CONTACT
If you have any questions, feel free to ask one of our destination consultants or to speak with one of our guides. You can get in touch with us via our contact form, email us at info@auswalk.com.au, or call us on +61 3 9597 9767.