Overview
It's not surprising that for decades Auswalker's have been calling the Flinders Ranges (Ikara) out as one of Australia's best walking destinations. On this Flinders Ranges tour you're granted unique access to the very heart of the Australian Outback with pack free walks that take you to Rawnsley Bluff, Dutchmans Stern, Tanderra Saddle,  Wilpena Pound and Black Gap among other places.
The 360 degree views from the summit into Wilpena Pound, the magnificent natural amphitheatre, that stands 300m higher than the famous red rock is worth the trip alone.
The Flinders Ranges is a hiker's El Dorado. There's the one of a kind colour scheme, the red ochre vistas, abandoned homesteads that pepper the landscape, eagles soaring overhead in thermal winds that sweep off the Pound and so much more you can only truly get a feeling for by walking here. There's also a gentler side of this unique destination walking the Pound floor avoiding the territorial emus and roos as you traverse the native cypress pines and massive meandering creek beds studded with majestic river red gums.
Highlights:
Genuinely fully inclusive
Flinders Ranges guided hikes to Rawnsley Bluff, Black and Bridal Gaps, Tanderra Saddle, Wilpena Pound & Dutchmans Stern
Helicopter flight over the Flinders Ranges walking trails we have hiked
4 nights accommodation in ensuite rooms
360 degree views into the pound and over the surrounding area
Chef prepared à la carte 2 course meals and cooked breakfasts each day
Easy and hard pack free walks offered each day
2 mature experienced Flinders Ranges tour guides with local knowledge of the region

GROUP-GUIDED
From
$
per person twin/double share
Single Supplement
$470
per person

Single Supplement
Australian hotel accommodations charge the same price per room regardless of whether there is one or two people occupying it.
In order to cover the cost of the accommodation when occupied by one person we need to charge the single supplement fee, a cost that we make no margin on.
Grade
Easy to Moderate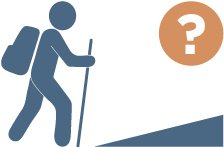 Grade 2 - Easy to Moderate
Some hill sections and occasional steps. Walking experience not required.
Data required for rest of form
Walk Type:
Walk Length: Days
Departure Date:
Person Single Cost: $
Single Supplement: $
Workbooks ID:
DAY 1
Depart Adelaide at 7.00am. Travel to Dutchman's Stern in the southern Flinders Ranges. This mountain is a prominent landmark in the Southern Flinders and has 360 degree views over Spencer Gulf, the surrounding plains and the Willochra Plain, a walk that's worth every step. This circuit walk also includes an outstanding variety of flora and panoramic views from the summit area.
Walks: Easy / 10 km / 4 hrs
Meals: Picnic at Dutchman's Stern. 2 course dinner at the Woolshed
Accommodation: Award winning Rawnsley Park Station with ensuite rooms
DAY 2
Today's walk is one of the best the Heysen Trail has to offer, it's also one of the oldest geological formations in the World. We walk from Aroona Ruins up and over the ABC Range. The 360 degree views back over the Heysen Ranges and the surrounding plains as you walk and from Brachina Lookout are some of the best in the Flinders. There's great diversity on this walk with an abundance of red ochre pits typical of the red centre, enormous creek beds lined with massive red gums and abundant wildlife.
Walks: Easy / 14 km / 5 to 5.5hrs
Meals: Cooked breakfast at the Woolshed, lunch pack and a chef prepared dinner at the Woolshed
Accommodation: Rawnsley Park Station with ensuite rooms
DAY 3
Hike over Black Gap into Wilpena Pound on the Heysen Trail. The walk once over the wall through the Pound is the gentler side of the Flinders we refer to. There's also an optional side trip to Wangara Lookout where you can get a full appreciation of the grandness of the Pound. The area was farmed until 1904 leaving historic buildings behind. In the late afternoon we walk to a very small hill to admire the setting of the sun over Wilpena Pound and the Elder Range with champagne in hand.
Walks: Moderate / 16km / 5 – 6 hrs / short option available
Meals: Cooked breakfast at the Woolshed, lunch pack and 2 course dinner at the Woolshed
Accommodation: Rawnsley Park Station with ensuite rooms
DAY 4
Today's climb will take us to rewarding views back over the ABC and Heysen Range and over the pound (a huge natural amphitheatre) are one of a kind. We will stop here for have lunch to take real time to take in the view.
Later in the day we will take to the skies above in a helicopter and take in the magnificent view of our walk tomorrow – Rawnsley Bluff. Adding another dimension into tomorrow's walk, you will see it from the air today.  **please note flights are subject to weather conditions
Walks: Mostly moderate / 14km /
Meals: Cooked breakfast at the Woolshed, lunch pack and a chef prepared dinner at the Woolshed
Accommodation: Rawnsley Park Station with ensuite rooms
DAY 5
Hike to the summit of Rawnsley Bluff and be treated to unparalleled views over the Chace and Elder Ranges. An easier option will include a walk to see more Aboriginal art and a visit to the historic Old Wilpena Station where there are numerous buildings and relics to explore at a leisurely pace.
After the walk we travel back to Adelaide via the historic settlement of Peterborough for lunch. What remains is a pleasant drive through the Clare Valley arriving in Adelaide by around 5.00pm.
Walks: Moderate / 11km / 5 hrs / short option is available
Meals: Breakfast and lunch
Genuine all inclusive pack free walking holiday
2 engaging, knowledgeable and experienced guides
4 nights' comfortable accommodation with ensuites
Chef prepared restaurant meals
Scenic helicopter flight at Rawnsley Park (*please note flights are subject to weather conditions)
Champagne and wine at sunset
All transport from Adelaide and luggage transport
National Park admission
Auswalk guide pack including notes, maps, lunch bag and container
For the four nights we'll base ourselves at Rawnsley Park, near Wilpena Pound. At this outback accommodation we'll stay in studio-style motel rooms with ensuites. There will also be an opportunity to star gaze at night and to sit around a campfire if the weather allows.
The 2 course a la carte dinners will be prepared by the professional chefs at the Woolshed at Rawnsley. Every day we will wake to a cooked breakfast in the restaurant to ready ourselves for the upcoming walks. The packed lunches complete the circle ensuring that your appetite is always satisfied. More importantly you can look forward to having lunch on a daily basis at some of the most incredible locations in the Flinders Ranges. Walkers lunches are enhanced by Auswalk's famous trail mix ensuring that you'll never be hungry on the track.
Some tracks are rough and rocky and on those hikes we'll cover shorter distances. Full day walks average 13-18 km. There are great opportunities for fit walkers to challenge themselves as there are rugged peaks to climb and remote gorges to explore.  This trip operates with two experienced, knowledgeable and fun-loving guides so we can offer easier and more challenging walk options along the way.
You'll enjoy dining at the Woolshed Restaurant – they also have an exclusive range of boutique wines to try. Alcohol or drinks with meals are not included (except tea/coffee and juice with breakfast).
Pre and post tour accommodation: There are many hotels in Adelaide. We pick up from and drop off at the centrally located Stamford Plaza, 150 North Terrace, Adelaide. The tour starts at 7.00am at the Stamford Plaza. We arrive in Adelaide by around 5.00pm on the last day.
For what to bring please refer to Gear Advice on our FAQ section.
WEATHER
See the Bureau of Meteorology for information about temperatures and rainfall ahead of time to ensure proper clothing.
INSURANCE
We strongly recommend purchasing a travel insurance policy as we charge a cancellation fee if you cancel your Auswalk holiday after we have confirmed it. We want to help make insurance more affordable by offering you a discount on policies purchased through NIB Insurance. This applies to any NIB policies issued via this link. Get an instant quote and purchase online now.
INFORMATION PACK
For nearly 30 years we have taken pride in providing seamlessly organised walking holidays, but we know, even with that in mind, that you'll have many more questions. You will receive a very detailed information pack and itinerary approximately 6 weeks out from departure outlining all the fine detail and much more.
CONTACT
If you have any questions, feel free to ask one of our destination consultants or to speak with one of our guides. You can get in touch with us via our contact form, email us at info@auswalk.com.au, or call us on +61 3 9597 9767.