Overview
Locals like to keep the Yuraygir Coastal Walk a closely guarded secret, and it's no wonder once you discover its spectacular beaches, picturesque lagoons and the relaxed charm and character of its coastal villages.
The Yuraygir Coastal Walk begins at Iluka and Yamba, two settlements that hug either side of the majestic Clarence River. The walk throws a variety of experiences at you including coastal hiking, littoral rainforests, paperbark swamps, colourful heathlands, crystal clear creeks and lagoons and spectacular rock platforms. Graceful pandanus trees line the picture-perfect beaches on the longest stretch of protected coastline in New South Wales.
This coastline is punctuated with splendid rivers making access difficult, but we have arranged for boats to take you safely across. We have also allowed time each day to take a swim or just hang out on your own private stretch of untouched beach. As an added bonus, the walk links the picturesque villages of Yamba, Angourie, Brooms Head, Sandon River, Minnie Water, Wooli and Red Rock giving it a real inn-to-inn feel. This is a track less-walked, and it's likely that you will have it to yourself.

SELF-GUIDED
From
$
per person twin/double share
Single Supplement
$485
per person

Single Supplement
Australian hotel accommodations charge the same price per room regardless of whether there is one or two people occupying it.
In order to cover the cost of the accommodation when occupied by one person we need to charge the single supplement fee, a cost that we make no margin on.
Grade
Easy to Moderate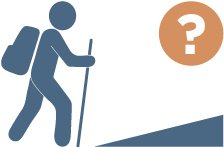 Grade 2 - Easy to Moderate
Some hill sections and occasional steps. Walking experience not required.
Data required for rest of form
Walk Type:
Walk Length: Days
Departure Date:
Person Single Cost: $
Single Supplement: $
Workbooks ID:
DAY 1
Start in Ballina where you will be transferred to Yamba in preparation for the first day of walking. If you came by car simply start in Yamba. If you arrive early enough you'll have time to cruise across the river by ferry (at a cost of $8.50) to explore Iluka and the surrounding area.
Walking: Optional Iluka walk
Meals: Two course a la carte dinner
Accommodation: Yamba Beach Motel in ensuited rooms
DAY 2
Commence the Yuraygir Coastal Walk heading south from Angourie Surf reserve via Lake Arragan and Shelley Beach to Brooms Head. Walk across a series of rock platforms and along pristine untouched beaches. There's an abundance of beautiful wildflowers and diverse range of other flora like Pandanuses that frame this walk every day.
Walking: Moderate / 18km / 5.5–6.5 hrs
Meals: Cooked breakfast, Walkers Lunch and two course a la carte dinner
Accommodation: Yamba Beach Motel in ensuited rooms
DAY 3
When walking from Brooms Head to Minnie Waters you can stop to swim and enjoy the remoteness of this magnificent park. Character filled walking including heathland plains, long sandy beaches, tranquil creeks and rocky outcrops. Today we get to experience the first of the beautiful river crossings.
Walking: Moderate / 19km / 6.5–8 hrs
Meals: Cooked breakfast, Walkers Lunch and two course a la carte dinner
Accommodation: Solitary Islands Marine Park Resort, Wooli
DAY 4
Tramp from Minnie Waters to Wooli with over 14km of easy walking. See if you can spot the endangered Coastal Emu and the whales and dolphins out to sea that frequent this area.
Walking: Moderate / 14.2km / 4–4.5 hrs
Meals: Cooked breakfast, Walkers Lunch and two course a la carte dinner
Accommodation: Solitary Islands Marine Park Resort, Wooli in
DAY 5
Traverse 5km of rock platform as you walk from Wooli to Red Rock. This is the most remote section of the walk and a great place to pick a spot and relax. It also includes two picturesque river crossings that complete the Yuraygir Coastal Walk, a superb ending to a memorable walk.
Walking: Easy to Moderate / 11.9km / 4–5 hrs
Meals: Cooked breakfast, Walkers Lunch and two course a la carte dinner
Accommodation: Yamba Beach Motel in ensuited rooms
DAY 6
Your walk finishes after breakfast in Yamba (if you drove your car) or with a private transfer to Ballina Byron Airport.
Meals: Cooked breakfast
Walk Grading
The Yuraygir Coastal Walk tracks are reasonably well graded and are easy to negotiate. Full day walks average about 16km. This linear coastal walk is a great opportunity for walkers to relax and walk, but also for walkers to challenge themselves if they wish.
*Walk grading and map are not to scale and indicative only.
Walking Track
Six day pack free walking holiday
Yuraygir Coastal walk from end to end
Five nights' accommodation with ensuites
Cooked breakfasts, two course a la carte dinners and substantial walkers lunches each day
Vehicle transfers and luggage transport
We shift you along the track from accommodation to accommodation to limit time in a vehicle, creating more time to relax and enjoy the region
National Park admission
Enjoy worry-free navigation with Auswalk's comprehensive track notes, maps, map case, insulated lunch bag & info pack
24/7 support from Auswalk's representatives on the ground
The Yuraygir Coastal Walk is a 60km plus linear coastal walk we have you stay in local hotels and resorts. The accommodations are comfortable with all rooms having their own ensuite for added privacy. The style of room varies between motel rooms in Yamba and cabins at other gorgeous locations along the track. On most days, you walk in and out of the accommodation making this feel like a real inn-to-inn walk
The two course a la carte dinners are prepared by professional chefs. Some breakfasts are cooked and eaten in local cafes, others are catered and taken in your room. Each day whilst you're walking you'll be provided with a substantial Walkers Lunch and get to eat it at a fabulous location on the track. A Walkers Lunch is varied and may include a high protein type salad, roll or a wrap, muesli bar, cake or muffin and a piece of fruit.
Alcohol or drinks with meals are not included (except tea/coffee and juice with breakfast).
As always, Auswalk supports the local economy and are fully supported by Parks NSW. This 6-day self-guided walking holiday starts in Ballina and has you transferred to Yamba and finishes in Yamba with a transfer back to Ballina. Inexpensive flights are available from both Melbourne and Sydney with Jetstar and Virgin. From Brisbane or the Gold Coast, it is about three hours by car, a bit longer by bus, to Yamba the start of the walk.  If you have travelled to the walk by car you will be transferred back to your car at Yamba.
This walk covers more than 60km distance averaging just over 15km per day. The walking is mostly easy to moderate. There is some extended beach walking on sand and undulating tracks. The walk is relatively easy and allows for plenty of time to explore the region or simply stay and explore the coast yourself.
For what to bring please refer to Gear Advice on our FAQ section.
WEATHER
This walk is available from May through to October (April and November if you're prepared to walk in a little heat).
See the Bureau of Meteorology's Yamba information about average temperatures and rainfall at different times of the year.
This walking holiday includes some sections of beach walking, so we need to take into account the tide times when choosing a starting date. Check the tide charts online at the Bureau of Meteorology and select the pin for North West Solitary Island or Yamba. Please contact us in the office if you require assistance.
INSURANCE
We strongly recommend purchasing a travel insurance policy as we charge a cancellation fee if you cancel your Auswalk holiday after we have confirmed it. We want to help make insurance more affordable by offering you a discount on policies purchased through NIB Insurance. This applies to any NIB policies issued via this link. Get an instant quote and purchase online now.
INFORMATION PACK
For nearly 30 years we have taken pride in providing seamlessly organised walking holidays, but we know, even with that in mind, that you'll have many more questions. You will receive a very detailed information pack and itinerary approximately 6 weeks out from departure outlining all the fine detail and much more.
CONTACT
If you have any questions, feel free to ask one of our destination consultants or to speak with one of our guides. You can get in touch with us via our contact form, email us at info@auswalk.com.au, or call us on +61 3 9597 9767.