Overview
The Kangaroo Island Wilderness trail is on Australia's third largest island and newest bucket list walk. Forests, lagoons, white-sand beaches and sea cliffs pounded by thunderous swells are just a small part of what makes this island unique. This island is a celebrated feral-free haven, moreover with a quarter of the island's area being protected it is no wonder the native animals flourish. But if walkers are surprised at how easy it is to see marsupials and wildlife, they're even more astonished by the scale and diversity of the place.
We see the diversity and scale close up by hiking the 61-kilometre Wilderness Trail that takes in Flinders Chase forests, the surreal sculptures that are Remarkable Rocks, Admirals Arch, untrammelled beaches and kilometre upon kilometre of cliff top hiking. We also walk Ravine des Casoars a true path less travelled walk.
Other highlights are Kelly Hill Caves and the 7000-strong colony of fur seals that take refuge in the stunning sands at Seal Bay, frolicking on rocky platforms.
With its' dense forests, green wetlands and stunning stretches of coastal terrain, Kangaroo Island is a hiker's dream,  a true paradise for walkers and naturalists alike.
We take care of the detail so you can relax and concentrate on what's important, the walking and the up close and fully immersive experience of this stunning island. The meals are mostly chef prepared and include 2 course a la carte dinners. With two outstanding guides looking after you, you can pace yourself because we can offer a choice of easier or harder walking options along the way.

GROUP-GUIDED
From
$
per person twin/double share
Single Supplement
$375
per person

Single Supplement
Australian hotel accommodations charge the same price per room regardless of whether there is one or two people occupying it.
In order to cover the cost of the accommodation when occupied by one person we need to charge the single supplement fee, a cost that we make no margin on.
Grade
Easy to Moderate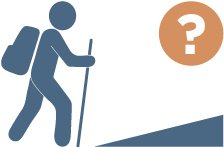 Grade 2 - Easy to Moderate
Some hill sections and occasional steps. Walking experience not required.
Data required for rest of form
Walk Type:
Walk Length: Days
Departure Date:
Person Single Cost: $
Single Supplement: $
Workbooks ID:
DAY 1
Depart from Adelaide at approximately 6:30 – 7.00am (dependant on ferry crossing) and travel to the middle of the island to Seal Bay where you'll see Australian sea lions in their natural habitat. Populations of kangaroos, wallabies, possums, echidnas, penguins, koalas, Cape Barren geese, fur seals and platypus also inhabit this area. The afternoon's walk features historic sites at Weirs Cove and a fur seal colony at Admirals Arch.
Walks: Easy / 10kms / 3 hrs
Meals: Lunch and 2 course dinner
Accommodation: Kangaroo Island Wilderness Retreat
DAY 2
Today we will walk a section of the Kangaroo Island Wilderness Trail. We walk from the visitors centre all the way to Cape du Couedic. The walking is quite remote as we follow riverside tracks as they meander to the tumultuous ocean. A shorter walk is offered a circuit walk in the Rocky River area where there should be lots of wildlife and flora. There's even a chance of spotting an elusive platypus in the stream.
Walking: Moderate / 16.5 km / 6 hrs / easier option of 8 or 11 km available
Meals: Cooked breakfast, walkers lunch and two course a la carte chef prepared dinner at the retreat restaurant
Accommodation: Kangaroo Island Wilderness Retreat
DAY 3
Today we hike another section of the Kangaroo Island Wilderness Trail. We will walk from the Hakea Campsite at Cape du Couedic to Sanderson Bay heading toward Remarkable Rocks. The track enters dense coastal mallee country before breaking out to the awesome sight of the iconic Remarkable Rocks the result of a geological upheaval 500 million years ago, a timeless reminder of the scale of time.
Walking: Moderate / 15.5 km / 6 hrs / easier option available
Meals: Cooked breakfast, walkers lunch and two course a la carte chef prepared dinner at the retreat restaurant
Accommodation: Kangaroo Island Wilderness Retreat
DAY 4
Today we explore Cape Borda Lighthouse and its' special square lighthouse perched high above Investigator Strait. The lighthouse was built in 1858 to guide sailing ships arriving off the 'roaring forties' trade routes. The morning hiking will take the path used by early Cape Borda lighthouse keepers to transport supplies from the boat landing to the light station itself. The remote hike in the Ravine des Casoars Wilderness Area is simply wonderful and among other things allows you time to explore fascinating limestone caves.
Walking: Easy to Moderate / 10 km / 6 hrs / easier option available
Meals: Cooked breakfast, walkers lunch and two course a la carte chef prepared dinner at the retreat restaurant
Accommodation: Kangaroo Island Wilderness Retreat
DAY 5
Today walk and our final starts at remote Hanson Beach and finishes at Kelly Hill Caves, the final section of the Wilderness Trail. The track meanders through a delightful bushland walk passing several lagoons teeming with bird life.
Walking: Moderate / 12 km / 4 hrs
Meals: Cooked breakfast in restaurant and walkers lunch
Genuine all inclusive pack free walking holiday
2 engaging, knowledgeable and experienced guides
4 nights' comfortable accommodation
Chef prepared restaurant meals at the Wilderness Lodge
All transport from Adelaide and luggage transport
National Park admission
Auswalk guide pack including notes, maps, lunch bag and container
Comfort is always a priority, and at the end of each day a hot shower, glass of wine and an excellent chef-prepared two course meal awaits. A comfortable night's sleep ensures you'll wake refreshed and primed, ready for the next day's walking after a cooked breakfast.
We are based at the Kangaroo Island Wilderness Retreat for the 4 nights whilst we are on Kangaroo Island. This accommodation is nestled in amongst the true wilderness of Kangaroo Island, and is adjacent to the Flinders Chase National Park.
You will enjoy two course chef-prepared dinners at the retreats on-site restaurant, utilising fresh local produce.
Rooms at the Kangaroo Wilderness Lodge have ensuites, with the lodge providing the perfect location to explore the west end of the island.
Packed lunches and picnics complete the circle ensuring that your appetite is always satisfied. In fact, you can look forward to having lunch on a daily basis at incredible locations on the track. A walkers lunch may include a high protein type salad, a roll or a wrap, a muesli bar, cake or muffin and a piece of fruit. Each day is slightly different. Lunch is always augmented by Auswalk's famous trail mix. Importantly, you start each day with a cooked breakfast, expertly prepared by professional chefs when at the Wilderness Lodge. This is a great way to ready yourself for the upcoming walk.
Alcohol or drinks with meals are not included (except tea/coffee and juice with breakfast).
The tracks are dry, firm and well cared for on Kangaroo Island. Most of the walks are easy to moderate. The easy walks are great for first timers; however, the experienced hikers won't be disappointed as there is ample opportunity to walk challenging distances and explore some fascinating geological sites. The new wilderness trail as you'd expect is extremely well cared for and makes for excellent walking.
This trip operates with a pair of expert guides leading the way, providing the flexibility to walk at a pace that suits you and offering a choice of easier or harder walking options along the way.
Pre and post tour accommodation: There are many hotels in Adelaide however we pick up and drop off at the Stamford Plaza, 150 North Terrace, Adelaide. The tour will start at approximately 6.30-7.00am (dependent on ferry crossing) at the Stamford Plaza. We arrive back in Adelaide at approximately 5.00pm on the last day
For what to bring please refer to Gear Advice on our FAQ section.
WEATHER
We only depart at the best time to walk and for Kangaroo Island this is spring and autumn. See the Bureau of Meteorology's information about temperatures and rainfall ahead of time to ensure suitable clothing.
INSURANCE
We strongly recommend purchasing a travel insurance policy as we charge a cancellation fee if you cancel your Auswalk holiday after we have confirmed it. We want to help make insurance more affordable by offering you a discount on policies purchased through NIB Insurance. This applies to any NIB policies issued via this link. Get an instant quote and purchase online now.
INFORMATION PACK
For nearly 30 years we have taken pride in providing seamlessly organised walking holidays, but we know, even with that in mind, that you'll have many more questions. You will receive a very detailed information pack and itinerary approximately 6 weeks out from departure outlining all the fine detail and much more.
CONTACT
If you have any questions, feel free to ask one of our destination consultants or to speak with one of our guides. You can get in touch with us via our contact form, email us at info@auswalk.com.au, or call us on +61 3 9597 9767.